The Green Corridor welcomed Breg Horemans and Esteban Donoso from 14 November to 4 December 2022.

Breg and Esteban drew from the short story 'The Library of Babel' by Jorge Luis Borges and interrogated how architecture can become an archive without imposing itself as a building and presented a sound-based piece as successive translations of the text, speculating on how it cracks and finds parallels between buildings, temporalities and discourses.

The soundscape contains contribution of Stephen Lawson, Natasa Asik, Hadrien Loumaye, Pichaya Paupoomcharoen, Esteban Donoso, Islandia Glamtzin, Bayardo, Christian Masbanda, Breg Horemans, Catalina Donoso, Elena Colli, Ana Maria Gomez and Sofia Calderon.


Breg Horemans & Esteban Donoso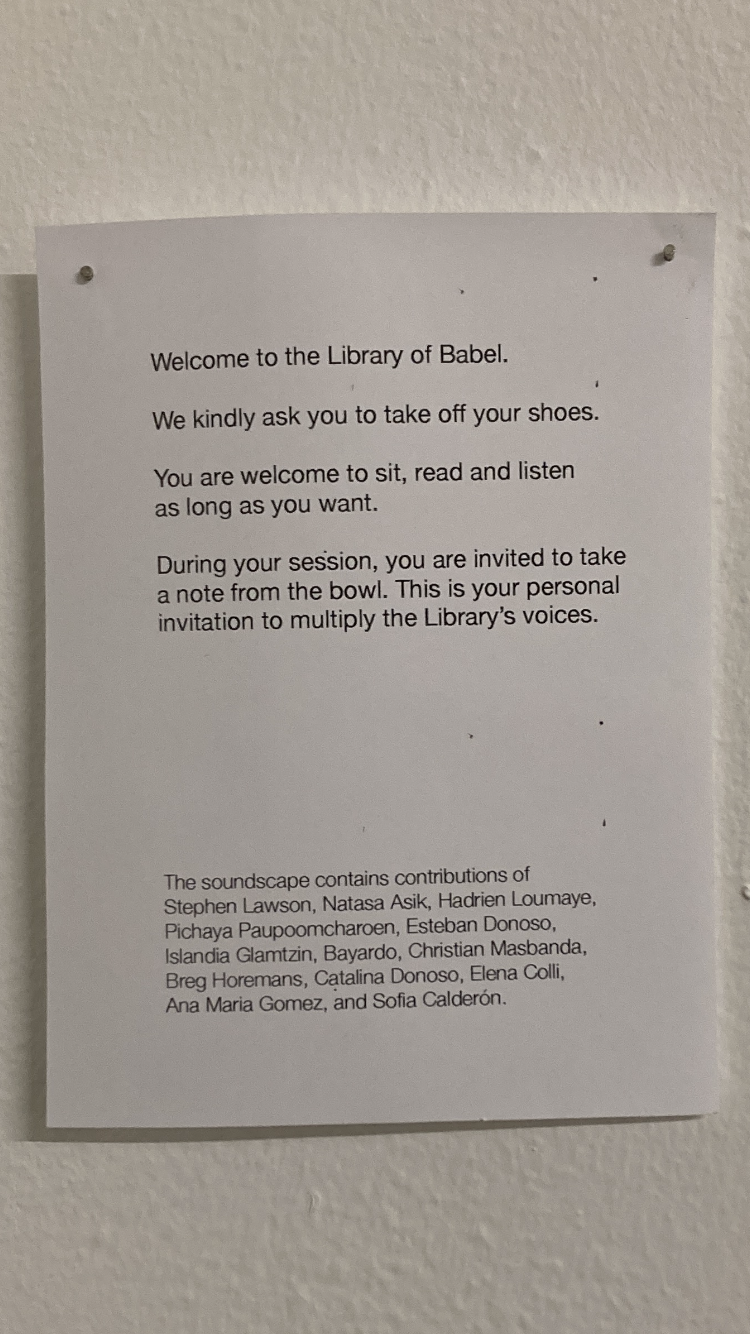 On 19 November, The Green Corridor hosted Breg Horemans and KunstenplatformB. Together they organised 'The Rural and the Other' seminar, consisting of a lecture by Breg and various thinking and doing exercises, ending with a parcours in Anderlecht.

Breg Horemans (*1985) has graduated in 2008 as Master in Architecture (LUCA Arts, Gent, BE) and completed his postgraduate in Curating (ZHdK, Zürich, CH) in 2017. He worked between 2009 and 2012 at Wiel Arets Architects in Maastricht on several projects and competitions.
Since 2011 he started collaborations with theatre makers and artists, resulting in performance spaces and exhibitions (Villa Romana, Florence; NAK, Aachen; Black Box Theatre, Oslo; Brakke Grond, Amsterdam). From 2012 Breg works as an architect, installation artist and curator. He is also co-founder of the TAAT collective together with theatre maker Gert-Jan Stam (2012), producing and presenting installations in an offline open source proces.

Esteban Donoso (Ecuador) holds a BA in Clinical Psychology and an MFA in Dance from University of Illinois (U.S.) where he worked with choreographers such as Tere O'Connor and Jennifer Monson. In 2007 he attended Impulstanz in Vienna as a part of the danceWeb Europe Programme. He later moved back to Ecuador where he has taught and produced his own work individually and collaboratively. In 2014 he collaborated with Fabián Barba for the creation of the installation-performance cultivo de babosas / slugs' garden, which will be performed at kunstenfestivaldesarts this year. In 2015 he moved to Belgium to start an artistic research program at a.pass. In the fall 2017 he started a PhD in Performance Studies at York University in Toronto, Ca.